Community Support You Need to Know About: The Way In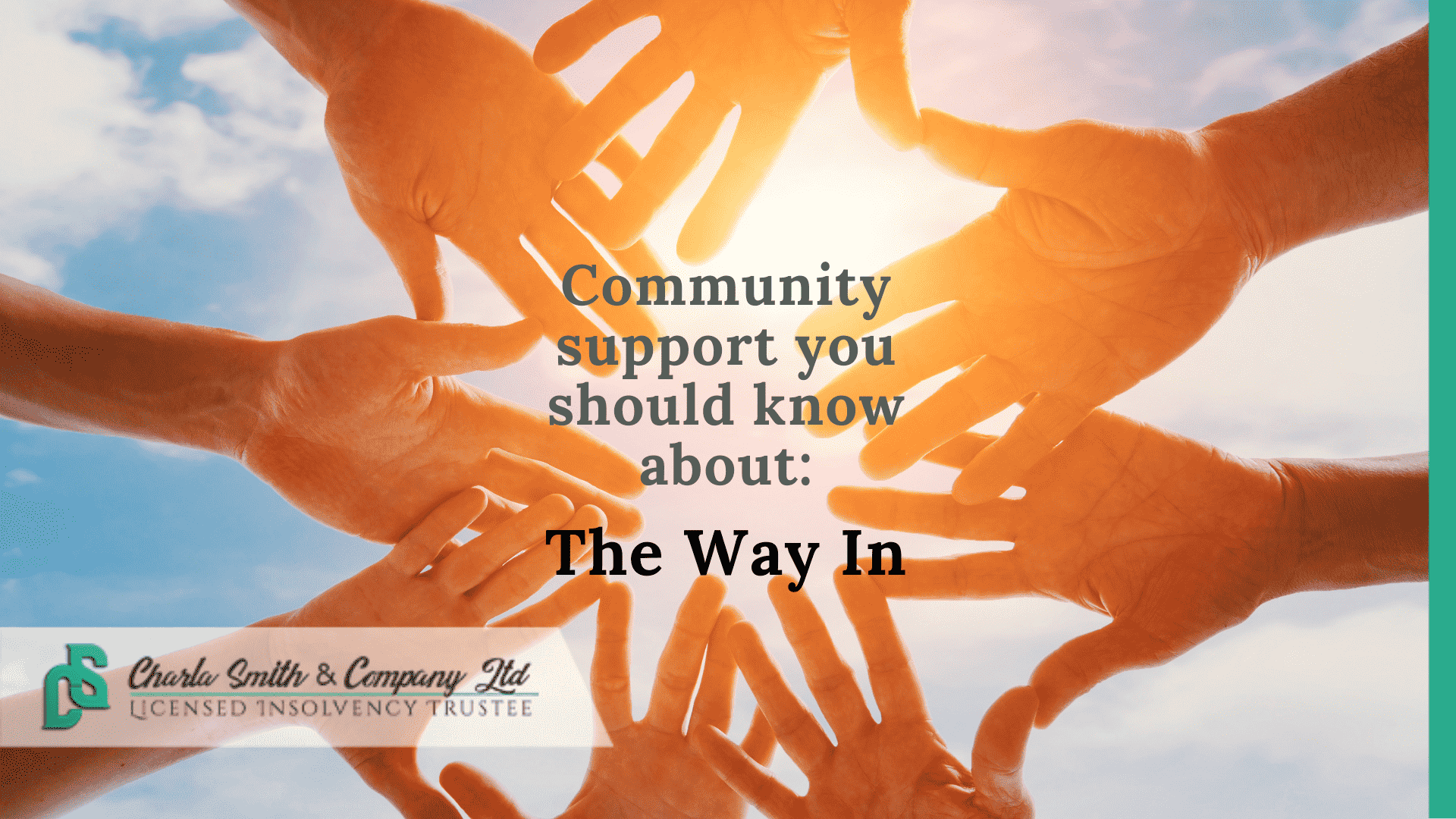 One of the things a Licensed Insolvency Trustee can do for those who reach out to us for help is refer them to other services. Sometimes, when appropriate, we provide information about options that are alternatives to a formal insolvency filing. Other times, we point people to assistance that is complementary to filing a consumer proposal or bankruptcy so they can set themselves up for success going forward. At Charla Smith & Company, our goal is to help people truly solve their financial problems, so we're always on the lookout for programs that might help with that.
In this blog, we highlight a Calgary program called The Way In. The Way In is a collaboration of Calgary-based agencies: Carya, Jewish Family Service Calgary, Calgary Seniors' Resource Society, and Calgary Chinese Elderly Citizens' Association, who are dedicated to assisting vulnerable older adults and their families with access to services and support to enhance their quality of life.
How The Way In Helps
Outreach workers provide information and connect people to services and resources so that they can age with dignity and in the place that's best for them. They offer flexibility, meeting with individuals at their home or a convenient location in the community. And these services are offered at no cost, as they receive funding from the City of Calgary's Family and Community Support Services, United Way of Calgary and Area, and the Government of Alberta.
Some ways The Way In helps people:
Sharing information about programs that might be available to support them and providing referrals to access those programs
Providing assistance with completing forms that are required to access benefits
Assisting with caregiver support and access to volunteer supports
Intervention and support in cases of elder abuse
Case management to provide support over time
Facilitating group activities and workshops
How to Access Support
In our experience, The Way In provides critical support to those who may not even be aware that they qualify for benefits and programs that can improve their financial situation and their overall quality of life. If you or a loved one are a senior who needs help with living costs or arrangements, call The Way In at 403-736-4677 to see if they can help you.
If you aren't eligible for assistance from The Way In or find you need support beyond what they provide, feel free to reach out to us to see if we can help. If not, we may be able to direct you to other resources or options.
Charla Smith & Company is a Calgary-based Licensed Insolvency Trustee, serving the southern Alberta region. We regularly help individuals navigate their options for dealing with overwhelming debt.
YOUR TRUSTED CHOICE FOR DEBT RELIEF
With our experience and our caring approach, we will help you find the best option for debt relief based on your unique situation - from advice on talking to your creditors to a consumer proposal or bankruptcy, and everything in between. We are here to lift the burden caused by overwhelming debt.
Contact us today at 1-403-899-3890‌ for a FREE, confidential, no-commitment meeting, and let us guide you to regaining your financial footing.
Or, join our Email List to receive notifications when we post new blogs or have news to share.