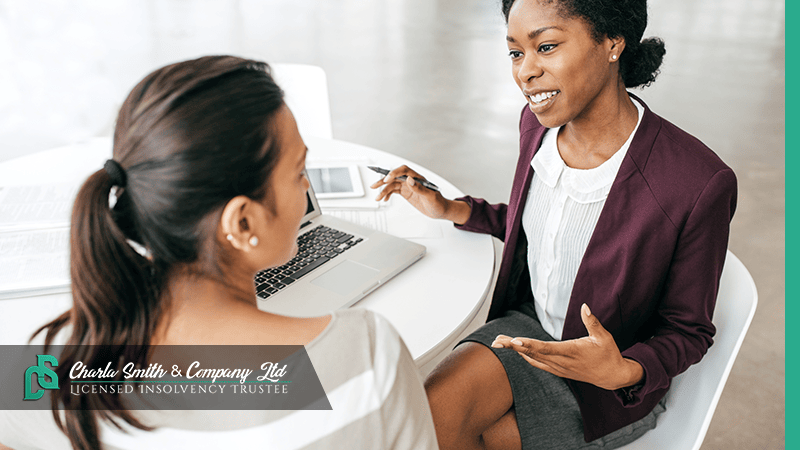 A consultation with a Licensed Insolvency Trustee is the foundation of your debt relief plan. It helps us to understand and consider all the factors related to your debt situation so we can assist you with optimal advice and support throughout your journey to debt freedom. During our initial, no-charge financial assessment we listen without judgement. We care about finding the solution - whether it is budgeting, an informal payment plan, debt consolidation, Consumer Proposal or Bankruptcy - that best fits your needs. You are not committing to any particular course of action by having us perform a financial assessment - you are simply exploring options.
We at Charla Smith & Company care about finding the right path for you and are committed to going the extra mile because we believe in doing the right thing, and we want to see you succeed in getting relief from your debt.
A financial assessment begins with an in-depth look at your debt and all related factors such as employment situation, family circumstances, spending habits and patterns - anything that will help us clearly understand your current state.
This initial no-charge consultation will help us determine and share with you your best options for achieving debt relief. This review is undertaken with the strictest confidence, and with full consideration of how difficult it can be to share personal and financial details related to your debt.
We understand what a burden debt can be and are here to help put your financial worries behind you.
BEST DEBT RELIEF SOLUTIONS
Debt happens, and we know there are many reasons why people get into financial difficulty. At Charla Smith & Company, our job is not to judge but to help. We will discuss how to solve your debt problems in a way that respects your dignity and acknowledges your unique circumstances.
Our small team of insolvency professionals provide financial advice and can offer consumer proposals and bankruptcy filings where appropriate.
We're here to answer questions, guide, and advise you so you can take back control of your financial situation. Complete this contact form or call us at 1-403-899-3890 today for a confidential FREE no-commitment consultation.
Your Very Own Debt Relief Professionals
After listening and understanding your situation, we present and explain your options along with our professional guidance and advice.
Together, we determine the best way for you to achieve true relief from your debt. All of this is done privately and confidentially and without judgement. Debt solutions can be as simple as creating a budget and a plan for you to pay down your debt or may require stronger measures such as a Consumer Proposal or Bankruptcy.
Our goal is to provide you with an unbiased overview of all your options based on your unique circumstances and to help you achieve debt freedom your way.
You Are So Much More Than Just Your Debt
Financial consultations provide the information needed to create a plan addressing your debt with practical solutions that take a holistic view of your situation.
Charla Smith & Company will help you get relief from your immediate debt problem and take the right steps for your future financial health.
Debt, and the stress it brings, have a way of impacting every area of our lives, but you are not defined by your debt. It is possible to find a solution that actually cures your debt stress, and we are here to help you find it. If your debt feels overwhelming and is making it hard to live life to its fullest, it's time to reach out.
FIND FREEDOM FROM YOUR DEBT
Debt can feel unmanageable and overwhelming and can affect all aspects of your life. It's easy to feel like there's no way out of it.
At Charla Smith & Company, we understand the stress caused by unsustainable debt. As a Licensed Insolvency Trustee, we're here to help with financial advice and we can offer relief from your debt through a consumer proposal or bankruptcy.
Your best interests always come first. We listen without judgement and provide unbiased expert advice. Contact us today at 1-403-899-3890 for a FREE, confidential, no-commitment consultation, and let us empower you to move forward and take back control of your finances.
DEBT RELIEF SOLUTIONS TAILORED TO YOUR SITUATION
When facing what may feel like insurmountable debt, you need access to professionals you can trust. Charla Smith & Company provides unbiased advice about your options for debt relief, which, depending on your situation, may include formal insolvency options like a consumer proposal or bankruptcy. Learn more about how we can help you get rid of your financial stress.
FEATURED ARTICLES
If you'd like some financial advice but aren't ready to book a meeting or reach out, feel free to check out our blog page, where we post articles and information that can help you do your research or understand the supports available in Calgary area. For example:
Frequently Asked Questions
No, you can contact any LIT directly and ask to set up a free consultation. It is not necessary to have a third party assist you with dealing with the LIT. LITs will work with you directly to gather information, determine your best option, and prepare the paperwork. For a more detailed explanation about why you do not need to contact a debt consultant, see our blog post Do I Need to Hire a Debt Consultant?
Reach out to us. You can make an inquiry directly from our website by clicking here, or you can call or text us at 1-403-899-3890. We will respond quickly, and work with you to find a good time for the meeting.
Our initial consultations typically last from 30 minutes to an hour and we can often provide recommendations during the initial meeting. Sometimes we may need to have a few conversations, depending on the availability of the information and how complicated your situation is. Where there is an urgent issue like a court action or your wages being garnished, we are able to work quickly with you to sort out a solution.
By taking the time to fully understand your situation and explain how your unique attributes and goals impact the desirability of each option, we are able to provide you value beyond what you could learn by researching options on your own.
Nothing. We offer free consultations to anyone looking to review their options for dealing with their debt. If we decide together that one of the services we provide is the right option for you, there will be payments you need to make in connection with that, but that will occur only after you have made a decision and signed the formal documents.
Our office is at 300, 1933 10 Ave SW, easily accessible from Bow Trail or Crowchild Trail, and a short walk from the Sunalta C-Train station. Alternatively, we can have the meeting by phone or video call – let us know if this is your preference, and we will provide you with a number or an internet link for the call.
If you're not sure you need a full consultation but have a few questions, give us a call or text at 403-899-3890, or email with your questions.
YOUR TRUSTED CHOICE FOR DEBT RELIEF
With our experience and our caring approach, we will help you find the best option for debt relief based on your unique situation - from advice on talking to your creditors to a consumer proposal or bankruptcy, and everything in between. We are here to lift the burden caused by overwhelming debt.
Contact us today at 1-403-899-3890‌ for a FREE, confidential, no-commitment meeting, and let us guide you to regaining your financial footing.
Or, join our Email List to receive notifications when we post new blogs or have news to share.