Guest blog - Did you know… the worse your credit score is, the faster it can jump up?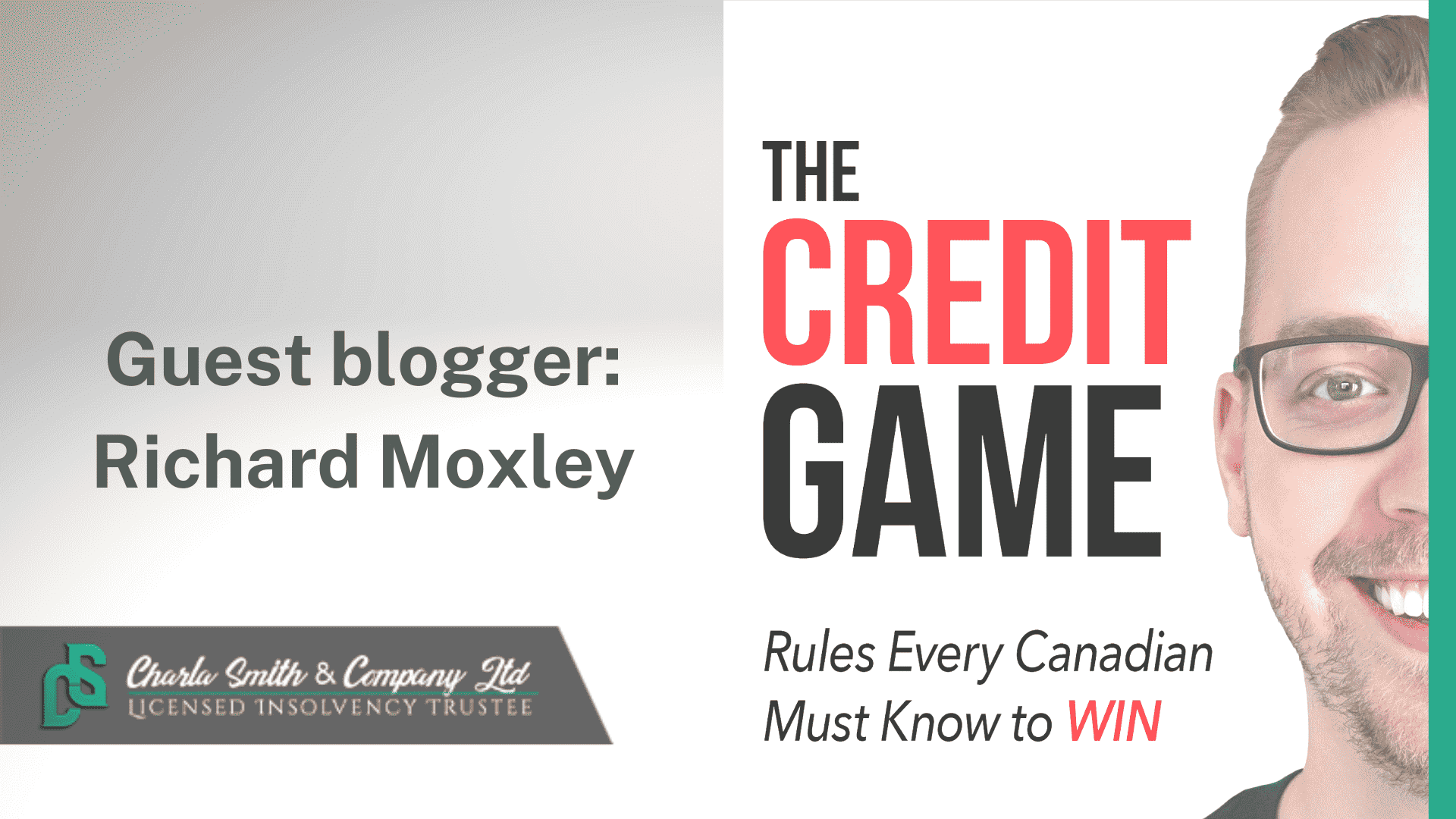 Richard Moxley is the author of the best-selling book The Credit Game: Rules Every Canadian Must Know to Win, a highly informative and entertaining guide to having good credit.
Richard has been spreading the word about the rules for good credit issue through television interviews, presentations, and courses, and we welcomed the chance to have him provide a guest post for our blog.
While Richard can help people improve their ability to obtain credit even if they already have a pretty good credit score, this post focuses on those who need his advice most; those with the lowest credit scores.
Let's Hear From Richard
First, let's discuss where your credit score comes from and its importance.
The credit score you see when you pull a report comes from either TransUnion or Equifax, the only two credit reporting agencies in Canada. Even if you get your report from a third party like CreditKarma, the information is coming from one or both of those agencies. The score calculated by TransUnion or Equifax is based off information reported to them by your creditors. Not all creditors report to both agencies, so each of them might calculate a different score for you. Lenders might only check one of them, so both scores can be important.
The ideal score is 700 and above. Although you can be approved with a lower score, you may be charged higher rates or fees if your score is considered low. However, the score you see doesn't always reflect your credit-worthiness in the eyes of lenders for a few reasons:
The number you see on your credit report is not necessarily the number they see when they pull a report from the same reporting agencies;
Lenders often calculate their own proprietary credit score based on the details contained in your credit report; and
Lenders don't always make lending decisions based solely on a calculated score. They often have individual ways of interpreting the items listed on your credit report, and may decide to lend or not lend based on just one item in your credit report.
So, it's fair to say your credit score isn't the only factor that determines whether you'll be able to get affordable credit. Lenders have a checklist of things they want to see, in addition to a high score that shows them that you can handle your credit properly.
So, What Are The Things That Can Make My Credit Score Jump Up The Fastest?
There are a number of things that can help increase your credit score, but in my view, these are the most important things you can do quickly:
Use credit cards: Some types of credit are better than others for showing you can responsibly handle credit. Credit cards are an example of revolving credit, which provides potential good insight into how you handle credit. Obtaining a couple of credit cards can be helpful, but beware! Credit cards are like a double-edged sword. They can impact your credit score more than any other type of credit, both positively and negatively. If the combination of easy access to credit and low minimum payments is too tempting for you, stay away!
Pay your bills on time: Making your payments on time is something most people understand is important for a good credit score. But what's most important is consistency in paying on time. Even one late payment can impact your credit score. If you have missed or late payments in the past, these will continue to show up on your credit report, but lenders can be convinced to extend you credit if you've gotten things under control and haven't had a late payment for a while.
Use far less than your limit: Just as important as making your payments on time is keeping a low balance on your credit cards. Whatever your credit limit is, you should never use more than half of it, even if you pay the balance off in full each mount. Lenders view you as a high risk if they see a balance over 50% of your limit at any time throughout the month.
Fix negative errors: One of the easiest ways to quickly increase your credit score is to get errors on your credit report fixed. Check your credit report closely, and if there is something negative showing up that is incorrect, you can try to work with the reporting party to get it fixed. A warning: this can be notoriously difficult, as the reporting parties usually aren't motivated to submit corrections. In that case you can contact the credit reporting agencies to ask them to add a note to your report which explains the issue. Another option is to contact me at info@CreditGame.net or visit my website at www.CreditGame.net, as I can often help you get it fixed.
How Much Money Can A Better Credit Score Save Me?
Again, the credit score you see on your report is not the sole indicator of the type of credit you'll be able to access. But generally speaking, those with lower credit scores have to settle for lenders offering credit at higher interest rates. You're also more likely to be charged up-front or annual fees if your credit score is low. The rates you'll be charged are difficult to predict, regardless of your credit score, as they will be influenced by other factors like the type of credit, the national and global financial climate, and the competitiveness of the market. However, the following example will give you a good idea of the impact your credit score could have on the cost of taking on debt:
Consider the case of a $20,000 vehicle loan with monthly payments over 5 years:
| | | |
| --- | --- | --- |
| Credit Score | Interest Rate | Savings On Monthly Payments |
| Amazing 700+ | 1.99% | $296.60 |
| Okay | 5.99% | $260.51 |
| Weak <500 | 30.0% | - |

Multiply those monthly savings over 5 years and you can save almost as much interest as the amount of the original loan!
In my experience, many people spend too much time, money, and energy chasing the highest possible credit score with little result. However, you can see that it's worth taking steps to increase your credit rating if it is currently weak. The good news is that the lower your credit score is right now, the faster it can be increased.
Once you've made the initial adjustments, there's a lot more you can learn about the credit game. For more tips on growing your ability to get low-cost credit, check out my website, read my book, or email me.
Frequently Asked Questions
You can find out your credit score, and see the details on your report that are impacting it, by pulling your credit report from either TransUnion, Equifax, or both. Both is actually preferable because some lenders only report to one or the other, so your credit score can actually be different on each.
While the credit agencies will give you the option of paying for regular credit reporting information, you can pull the reports for free. Click on these links to get TransUnion and Equifax reports.
A Licensed Insolvency Trustee is a good resource for advice on fixing your credit so you may want to book a free consultation to find out more. We can provide referrals to trusted individuals who can help where we can't.
There are many people who sell advice and/or help with credit ratings, or give advice online, but proceed with caution. Some are more knowledgeable and reputable than others, so you'll need to do your research. There is no magic pill to increase your credit rating, so be cautious about paying anyone who says there is. If you'd like to get in touch with an expert, you can contact Richard Moxley at The Credit Game or take a look at the resources he has made available on his website.
You would benefit from a consultation with a Licensed Insolvency Trustee to find a path to deal with your debt. Contact Charla Smith & Company for a free, no-commitment consultation to get unbiased advice on your options for dealing with your debt.
YOUR TRUSTED CHOICE FOR DEBT RELIEF
With our experience and our caring approach, we will help you find the best option for debt relief based on your unique situation - from advice on talking to your creditors to a consumer proposal or bankruptcy, and everything in between. We are here to lift the burden caused by overwhelming debt.
Contact us today at 1-403-899-3890‌ for a FREE, confidential, no-commitment meeting, and let us guide you to regaining your financial footing.
Or, join our Email List to receive notifications when we post new blogs or have news to share.