How debt relief works: A tax debt case study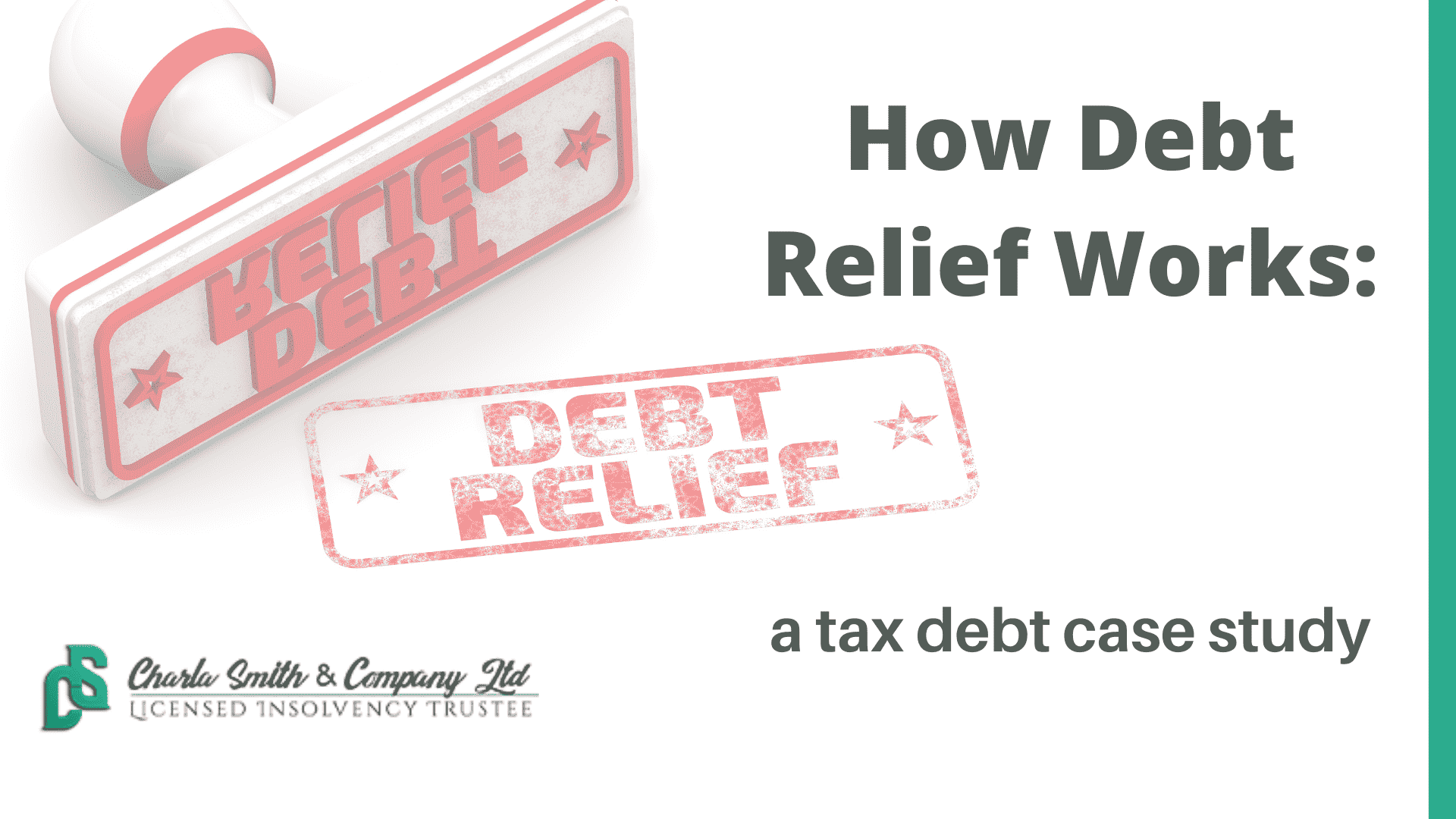 There's one thing that most of the individuals we help have in common: they never thought an insolvency filing would be something they'd ever need or consider. So when their debt initially became overwhelming they typically knew nothing about debt relief. This often means they struggled with their debt for many years before coming to see us to discuss their options. One of the hardest things about being a Licensed Insolvency Trustee is hearing such stories and knowing that people could have gotten help earlier.
A lot of people have the misconception that individuals who make an insolvency filing lack a moral desire to pay their debts and happily use an insolvency filing to "game the system" and leave their creditors in the lurch. In most cases, nothing could be farther from the truth. So we're publishing a series of blog posts highlighting some of the people we've helped and their situations*. It's possible you'll see yourself, a client, or someone you care about in their stories. If not, perhaps you'll at least have a better understanding of the reasons that people decide to make an insolvency filing.
*Names and other details have been changed to protect the confidentiality of the individuals whose stories we tell
Grant
Grant was referred to us after his new accountant broke the bad news to him that he was insolvent. Grant wasn't much of a numbers guy, but he'd known for a while that he was in financial trouble. He'd been having difficulty paying his regular bills, but even worse… he had gotten behind on his taxes.
Grant worked in the construction industry, and he was known for his high-quality work. But as an employee he wasn't paid well for his work, so eventually he decided to strike out on his own and become self-employed. He was successful in getting jobs but he struggled with the business side of things, so for years he kept his business afloat through pure grit and with the help of his wife, who kept track of the accounting as best she could.
Eventually, though, the stress of running the business impacted both his marriage and his health. During this tumultuous time he continued to work when he could, but he was so caught up with his relationship and health issues and keeping his bills paid that he didn't pay much attention to paperwork and he got behind on tax filings. He was overwhelmed and afraid to admit how behind he was, but eventually he connected with a good accountant who helped him bring things up to date. It was at that point that he realized that the amount he owed in taxes was more than he could pay. In the past, he would have worked his way out of the problem, taking on more jobs to generate funds to pay the bill, but his health issues prevented him from doing that now. In fact, he was struggling to pay basic living expenses with the amount of work his body could handle.
In other words, Grant was facing possible bankruptcy. However, Grant was lucky to have a family member that was willing and able to help him turn things around by offering him support with ongoing living expenses and by loaning him funds to help pay his debt (even though they knew there was a risk he would not be able to re-pay them). There was only one problem – they couldn't afford to pay the full amount of the debt, and because Grant couldn't afford to pay the rest, they understandably didn't want to use their savings to only "put a bandaid" on the problem.
Regular collection officers at Canada Revenue Agency are unable to agree to a partial settlement, but we worked with Grant to prepare an insolvency filing in the form of a Consumer Proposal to the Canada Revenue Agency, wherein the full amount of the debt would be settled in exchange for the partial payment from his family. These types of proposals are handled by a different unit within Canada Revenue Agency, and they are empowered to accept settlements when it would be in the government's best interest. We conducted a careful analysis of Grant's situation and determined that if he filed a bankruptcy (which was likely his only other option), based on his lack of assets and lowered income, there likely wouldn't be any recovery to pay even a portion of the debt. We reported all of this information to the Canada Revenue Agency, and ultimately they voted to accept the proposal. Once Grant's family member made the proposed payment, his debt was dealt with and he could focus on figuring out (with the help of the two financial counselling sessions we provided as part of the proposal) how to keep his bills, including his tax payments, up to date going forward.
Don't delay getting help
Too many people delay coming to see a Licensed Insolvency Trustee, spending months, years or even decades struggling with their debt, because they don't think people like them make an insolvency filing. The truth is, most people who take this step are regular people who've gone through a difficult time and, as much as they want to pay their debt, they need a re-set.
If you are struggling with debt and want to explore your options, we can help. Charla Smith & Company is a Calgary-based Licensed Insolvency Trustee, serving the southern Alberta region. We regularly help individuals navigate their options for dealing with overwhelming debt. If you would like a free, no-commitment consultation to review your options, contact us.
Disclaimer: This publication provides general information and should be seen as broad guidance only. The information contained herein cannot be relied upon to cover specific situations and you should not act, or refrain from acting, upon this information without obtaining specific professional advice relating to your particular circumstances. Charla Smith & Company Ltd. does not accept or assume any liability or duty of care for any loss arising from any action taken or not taken by anyone in reliance on the information in this publication or for any decision based on it.
YOUR TRUSTED CHOICE FOR DEBT RELIEF
With our experience and our caring approach, we will help you find the best option for debt relief based on your unique situation - from advice on talking to your creditors to a consumer proposal or bankruptcy, and everything in between. We are here to lift the burden caused by overwhelming debt.
Contact us today at 1-403-899-3890‌ for a FREE, no-commitment meeting, and let us guide you to regaining your financial footing.
Or, join our Email List to receive notifications when we post new blogs or have news to share.