What is the "sweatbox" and why should you avoid it?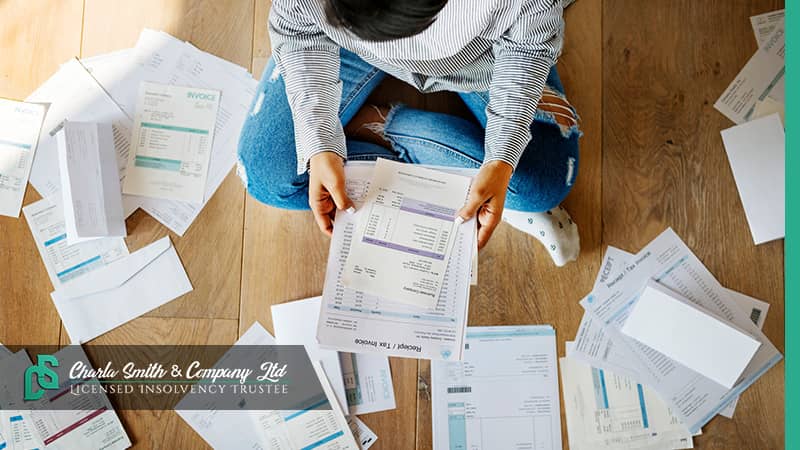 The term "sweatbox" was coined by researchers1 working on a study about people who file bankruptcy to describe the situation that often occurs prior to their insolvency filing. During a person's time in the sweatbox, they know or suspect they can't afford to pay their debt back, but they keep trying, going to great lengths to make partial payments and defend against collection efforts, hoping that somehow they will eventually be able to pay the debt… a recipe for stress. According to an American study called the Consumer Bankruptcy Project2, two-thirds of people who eventually made an insolvency filing seriously struggled for more than 2 years to pay their debt, and nearly one-third struggled for 5 years or more. Meanwhile, as we discuss in this post, their financial situation is often worsening rather than getting better.
I recently came across the term "sweatbox". Although I am a Licensed Insolvency Trustee and have worked in the insolvency field for over a decade, I had never heard it before. But the term seemed to really hit the nail on the head in describing what many people we talk to have experienced. The following are things that tend to occur when a person is in the sweatbox, with the likelihood increasing the longer they are in that state. We think you'll agree that none of these are desirable, which is why we want to help people avoid the sweatbox.
They pay more overall
Interest continues to accrue on existing debt. Lack of access to lower-interest credit leads to the use of higher-interest lenders. And sometimes debt consultants are hired to help, resulting in more fees.
They end up with fewer assets and more debt
Often, assets are lost to foreclosure or seizure. And with no safety net in the form of an emergency savings fund, any unexpected expense means taking on more debt. As a result, there is less and less available to go around for creditors.
They experience a stress spiral
In addition to struggling every day to make ends meet and reacting to unexpected expenses, people in the sweatbox face increased pressure from lenders, such as collection calls and legal action including writs, garnishments, and lawsuits. Eventually, financial stress starts to impact their job and their relationships, leading to even more stress.
They go without necessities
When trying to pay the debt, the first thing to go is often contributions to emergency savings. Soon it is delaying car or home repairs. The longer it goes on the more likely people are to end up going without things like dental care, medication, and even food.
Their options are more limited
Having cashed in their savings, tapped out friends and family, and used up things like employment advances, people in the sweatbox often resort to high-interest lenders – what we call lenders-of-last-resort. Eventually, the only viable option left may be bankruptcy.
After a long time in the sweatbox, pressure from debt collectors often causes people to make an insolvency filing, despite all their efforts and the struggles they went through for so long. In retrospect, they may realize they could have saved themselves years of suffering if they had spoken with a Licensed Insolvency Trustee as soon as they realized they could not afford to pay the debt.
So why do people live in the sweatbox for so long? There can be many answers, including fear and shame regarding an insolvency filing, but often our experience is that people feel responsible for the debt they've incurred and genuinely try their best to pay it. Licensed Insolvency Trustees get that, but we tend to wish people had come to us for relief from their debts sooner, because we know that we can help people find the best option not only for them but also for their creditors.
If you think you may be in the sweatbox, contact us for a FREE no-commitment consultation to discuss a path forward.
1. Life in the Sweatbox by Pamela Foohey, Robert M. Lawless, Katherine Porter & Deborah Thorne credits Jay Westbrook with coining the term "sweatbox" to describe "the business model of squeezing a few years of fees out of debtors before financial default."
2. As described in Life in the Sweatbox by Pamela Foohey, Robert M. Lawless, Katherine Porter & Deborah Thorne, which was published in the Notre Dame Law Review in connection with the Consumer Bankruptcy Project
Charla Smith & Company is a Calgary-based Licensed Insolvency Trustee, serving the southern Alberta region. We regularly help individuals navigate their options for dealing with overwhelming debt. If you would like a free, confidential consultation to review your options, contact us.
Disclaimer: This publication provides general information and should be seen as broad guidance only. The information contained herein cannot be relied upon to cover specific situations and you should not act, or refrain from acting, upon this information without obtaining specific professional advice relating to your particular circumstances. Charla Smith & Company Ltd. does not accept or assume any liability or duty of care for any loss arising from any action taken or not taken by anyone in reliance on the information in this publication or for any decision based on it.
YOUR TRUSTED CHOICE FOR DEBT RELIEF
With our experience and our caring approach, we will help you find the best option for debt relief based on your unique situation - from advice on talking to your creditors to a consumer proposal or bankruptcy, and everything in between. We are here to lift the burden caused by overwhelming debt.
Contact us today at 1-403-899-3890‌ for a FREE, confidential, no-commitment meeting, and let us guide you to regaining your financial footing.
Or, join our Email List to receive notifications when we post new blogs or have news to share.