Community support you need to know about: Business Link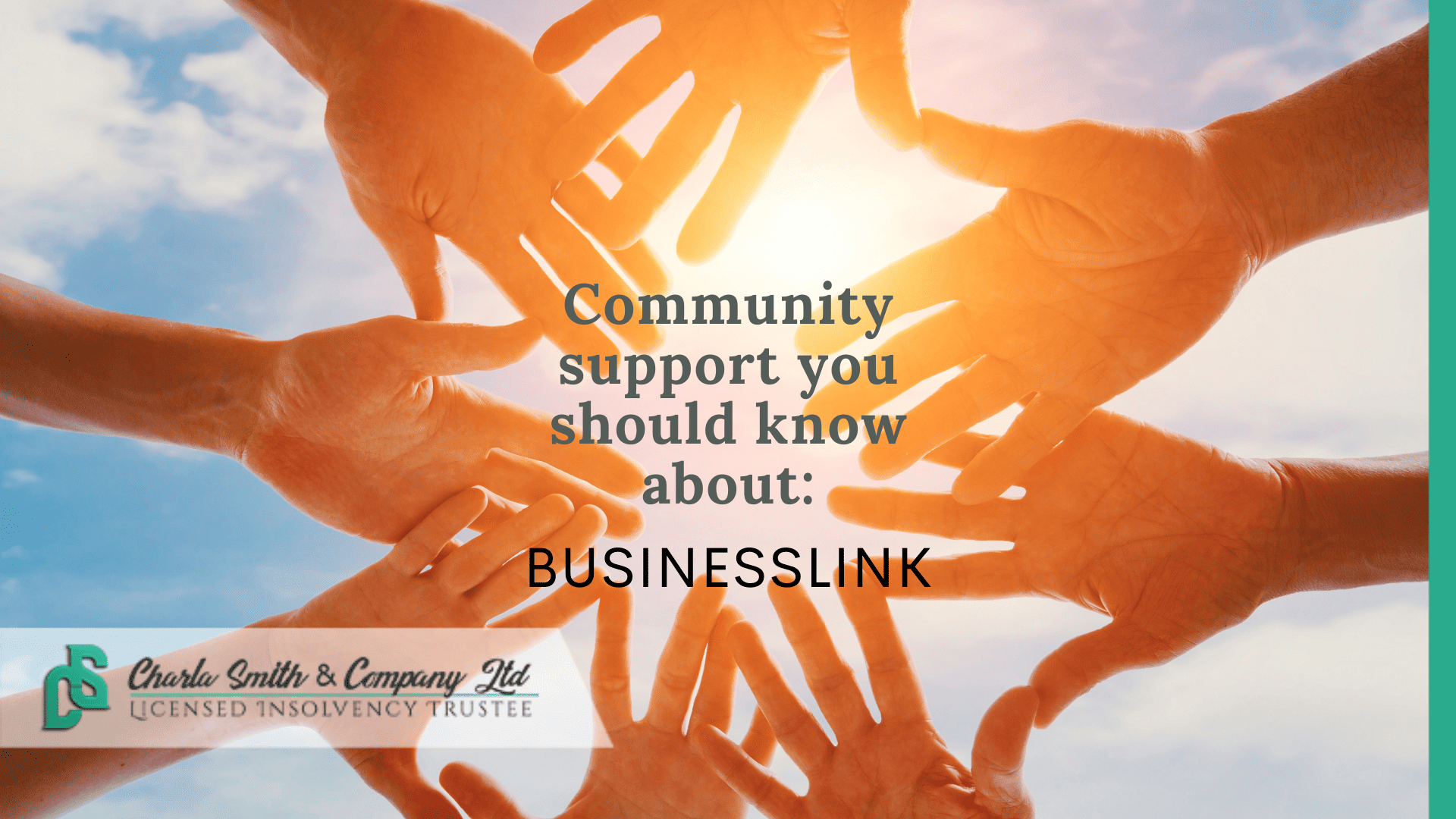 Charla Smith & Company is always looking for ways to help Calgarians, including business owners, succeed financially. Sometimes, that means learning about community organizations that can help. In this blog we highlight an Alberta organization called Business Link, who we recently collaborated with to publish a blog for its website called When is it time to reach out for help?
According to its website, Business Link has been around since 1996, and is part of a network of organizations supporting small businesses and entrepreneurs across Canada. It is a not-for-profit organization that partners with federal and provincial governments as well as many other organizations, and is assisted by volunteers. Business Link is focused on helping people with free advice and support to start their own businesses, including specialized support programs for Indigenous and immigrant entrepreneurs.
One of the things a Licensed Insolvency Trustee can do for those who reach out to us for help is refer them to other services, including information about options that are alternatives to a formal insolvency filing and/or assistance that is complementary to filing a consumer proposal or bankruptcy, so they can set themselves up for success afterwards. At Charla Smith & Company, our goal is to help people truly solve their financial problems, so we're always on the lookout for programs that might help with that.
We've been familiar with Business Link for many years, having attended some of their events and presentations, and we think the resources Business Link provides can help those looking to elevate their financial position by starting up their own business.
Business Link has many ways it can help people, including:
One-on-one advice and support provided by in-house experts on topics ranging from preparing a business plan to navigating regulations to reaching export markets
Market research to explore whether a market exists for a business idea
Networking opportunities with other entrepreneurs and business experts
Training in the form of website resources, webinars, and blog posts prepared by business experts
Business Link is well-connected to expert volunteers and other organizations that offer support to small business owners, and is dedicated to linking entrepreneurs to these resources. Check out their website for more information or to contact them.
If you or your business are struggling with debt or need support beyond what Business Link can provide, Charla Smith & Company is a Calgary-based Licensed Insolvency Trustee, serving the southern Alberta region. We regularly help individuals navigate their options for dealing with overwhelming debt. Feel free to reach out to us to see if we can help. If not, we may be able to direct you to other resources or options.
Frequently Asked Questions
Licensed Insolvency Trustees (or LITs) are the only people who can provide bankruptcy or Consumer Proposals as an option for dealing with your debt. They are uniquely qualified to provide these services and give you advice about your debt. For more information, see our blog post: What is a Licensed Insolvency Trustee?
We'd suggest working with your bank to determine the plan for shutting down the company and turning over assets to them. Getting in touch with a Licensed Insolvency Trustee can help, as they may be able to give you advice or even in some cases work with both you and the bank to determine a liquidation plan
At Charla Smith & Company, we focus on the needs of individuals who are struggling with debt, so you've come to the right place. Check out our solutions page for information on insolvency options, our blog for a discussion of various bits of information surrounding those options, or better yet give us a call at 1-403-899-3890 or send us a message and we will work with you to figure out how the various options for dealing debt might look for you.
Not at all. Bankruptcy is one of the services we provide but it is not the best solution for everybody. In fact, more often than not we recommend a solution other than bankruptcy. A Licensed Insolvency Trustee is simply the best resource for reviewing your options, as we are highly trained, regulated by the government and our professional association, and well-versed in a variety of options. Contact us if you'd like to start a conversation about your options.
No, a Licensed Insolvency Trustee is an impartial facilitator who communicates with all parties to make sure the process is transparent, and that everyone is following the required rules so that the process is orderly and predictable.
YOUR TRUSTED CHOICE FOR DEBT RELIEF
With our experience and our caring approach, we will help you find the best option for debt relief based on your unique situation - from advice on talking to your creditors to a consumer proposal or bankruptcy, and everything in between. We are here to lift the burden caused by overwhelming debt.
Contact us today at 1-403-899-3890‌ for a FREE, confidential, no-commitment meeting, and let us guide you to regaining your financial footing.
Or, join our Email List to receive notifications when we post new blogs or have news to share.