Community Support You Need to Know About: Momentum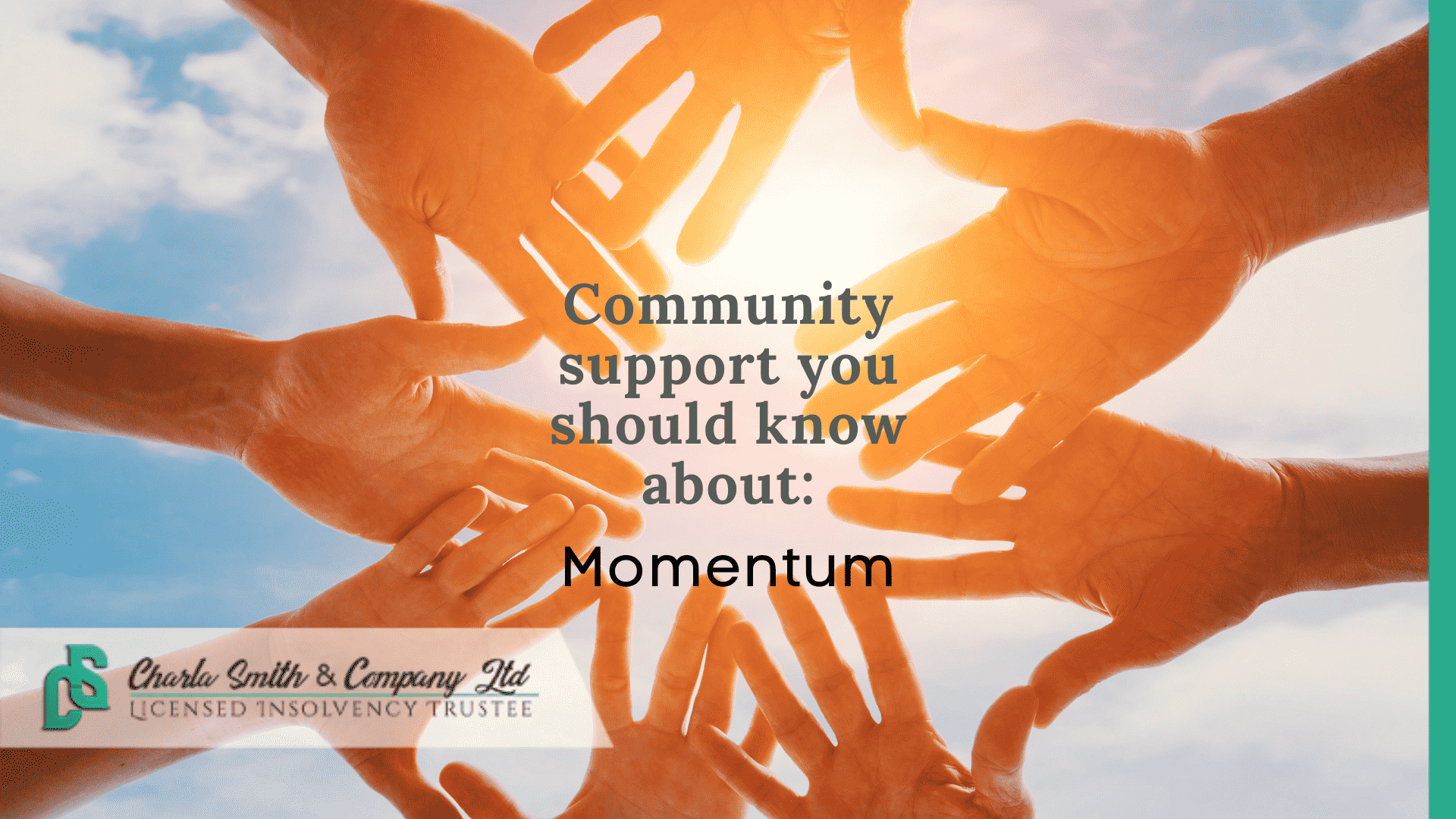 One of the things a Licensed Insolvency Trustee can do for those who reach out to us for help is refer them to other services. Sometimes, when appropriate, we provide information about options that are alternatives to a formal insolvency filing. Other times, we point people to assistance that is complementary to filing a consumer proposal or bankruptcy so they can set themselves up for success afterwards. At Charla Smith & Company, our goal is to help people truly solve their financial problems, so we're always on the lookout for programs that might help with that.
In this blog we highlight a Calgary organization called Momentum. Momentum is a community-based charitable organization that has been operating independently in Calgary since 1991. According to Momentum, it exists to support Calgarians who live on a low income and it works with individuals, businesses, communities and systems to increase each individuals' income and assets and create a thriving local economy for all.
What Momentum Does
Momentum has many ways to support people, which can best be categorized as:
Training, skill-building and support for those looking to start a business or get a good job
Funding for micro-business loans
Education, resources, and advocacy supporting systemic changes to reduce poverty and remove barriers for those looking to become more financially stable, including matched savings programs
There are many specific programs provided by Momentum, too many to explore in this post. However, here are some specific examples we think are interesting:
Entrepreneurship 101
If you are an aspiring entrepreneur wondering if starting a business is for you, this 8-week program supports you in understanding how to achieve impact with your idea. Momentum states that it's a safe place to explore, as there is no way to pass or fail the program, and all are welcome.
Self-Employment Program
Available during the day or evening for those wanting to start a new business, this free six-month program includes online classroom instruction, individual business coaching, and group sessions. During the program, you will prepare and start to implement a business plan for your new business, receiving tailored feedback and support throughout the process.
Money Matters workshops
Specifically for individuals facing mental health or addiction challenges, this free program provides financial literacy education programming over the course of seven workshops, as well as one-on-one support for those who are having difficulty managing their finances on their own. The goal of the program is to increase the individuals' financial stability and sense of independence while decreasing stress and feelings of isolation. For those not dealing with mental health or addiction issues, there are similar programs.
Matched Savings
In this program, which is available for both youth and adults, Momentum not only provides education and support to those trying to build a savings habit, but it also provides more money for your savings by matching the amount you save in the program, times three (or times four, for youth aged 16-24)! Important aspects of this program setting specific savings goals and providing confirmation of savings to keep you accountable and motivated.
The Momentum Savings Challenge
The QUBER Savings App can help make saving money possible, even if you're living on a low income. By joining the Momentum Savings Challenge on QUBER, you can get cash rewards for saving.
Money Management Workshops
Momentum has free money management courses on demand. These courses include Budgeting, Credit, Assets, Banking, Consumerism, and Educations Saving. The things you will learn include: creating a budget that works for you, how to be a smart banking customer, and alternatives to consumerism.
These are just a taste of the programs Momentum provides. There is more information on Momentum's website about its various programs and applying for a particular program can be as easy as clicking on a button and filling out some information on a web page. However, there are also staff just a phone call or email away, available to answer questions and guide you to the right resources.
How To Access Support
Momentum tells us that it is important that its services are provided to the right people at the right time to maximize their impact, so programs are typically available by application only for individuals who meet certain eligibility requirements. If you don't meet the eligibility requirements for Momentum programs or find you need support beyond what they provide, feel free to reach out to us to see if we can help. If not, we may be able to direct you to other resources or options.
Charla Smith & Company is a Calgary-based Licensed Insolvency Trustee, serving the southern Alberta region. We regularly help individuals navigate their options for dealing with overwhelming debt.
YOUR TRUSTED CHOICE FOR DEBT RELIEF
With our experience and our caring approach, we will help you find the best option for debt relief based on your unique situation - from advice on talking to your creditors to a consumer proposal or bankruptcy, and everything in between. We are here to lift the burden caused by overwhelming debt.
Contact us today at 1-403-899-3890‌ for a FREE, confidential, no-commitment meeting, and let us guide you to regaining your financial footing.
Or, join our Email List to receive notifications when we post new blogs or have news to share.