Parents: Teach Your Kids About Money Early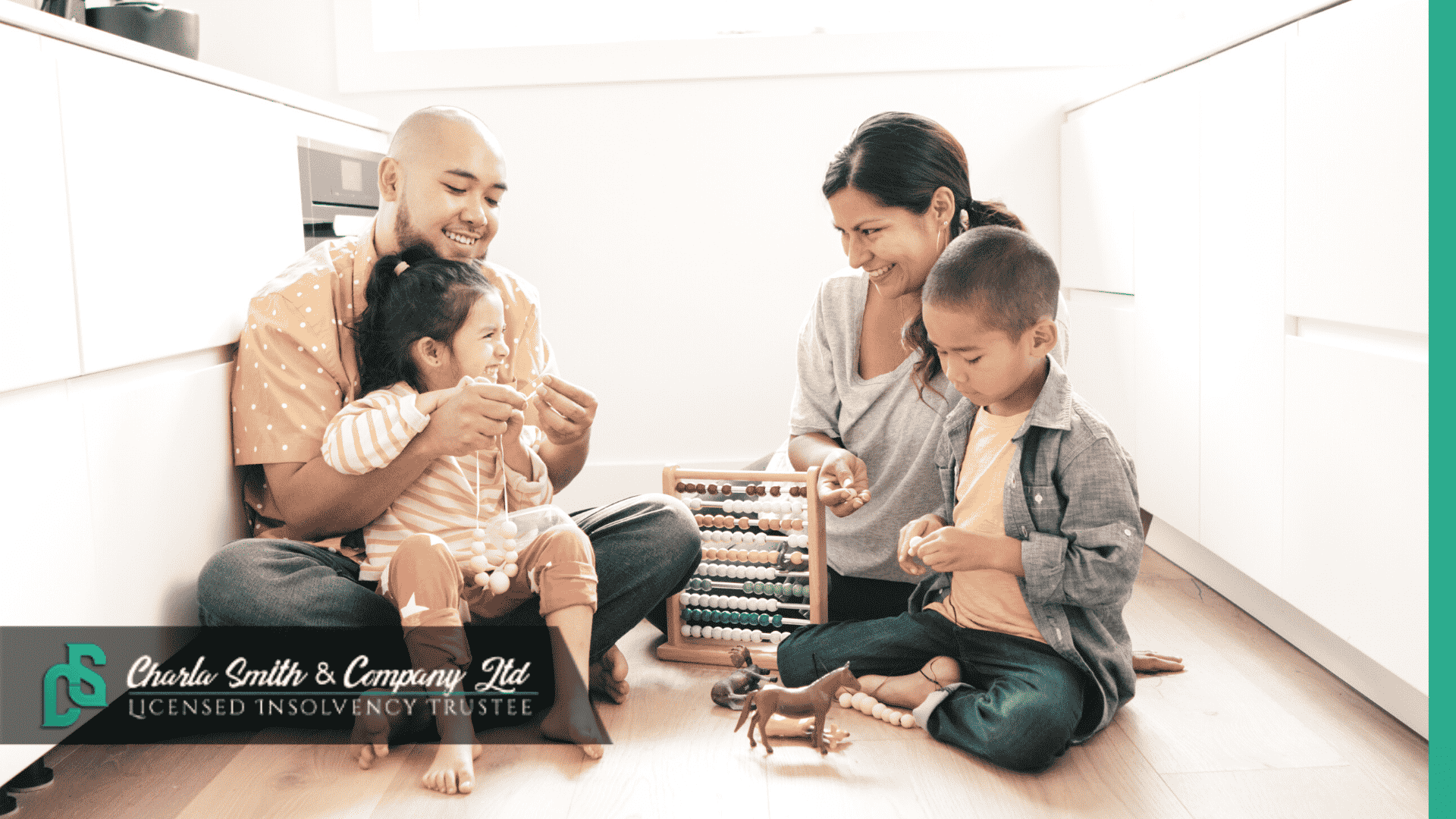 All parents wish for our kids to be more prepared for adult life than we were. In particular, parents who experience financial difficulty are set on helping their kids avoid such problems. But despite efforts of generations of parents, it seems not everyone is sufficiently prepared for financial independence when the time comes. In my opinion, this has a lot to do with the fact that money is still treated as a taboo subject socially, combined with a lack of financial education in our schools' curriculum.
As a Licensed Insolvency Trustee, I see the results of a lack of knowledge about budgeting, interest rates, and use of credit, so I tend to emphasize the importance of financial education. But I think most people will agree that teaching our kids about money is at least as important as showing them how to cook or tie their shoes. After all, money will be a part of their lives every day regardless of the path they choose. So we need to prepare them the same way we prepare them for other everyday aspects of life, and it is truly never to early to get started. Here are my thoughts on introducing financial management skills early.
My Advice
Talk openly about money
Financial literacy advocates have been saying for a long time that it's important to talk to your kids about money, but often their advice is centred around conversations about setting financial goals and budgeting. In due time I agree this is important to address, but I think it is simpler than that, particularly when they're young.
My advice is to just talk to them about money as a part of daily life, as you would anything else. Say the quiet part out loud for their benefit. Some examples:
If you're depositing your paycheck while out with your kids, tell them what you're doing, why you're doing it, and how you earned the money.
When you're grocery shopping, point out sale stickers and explain how you decide if it's really a good deal.
Take the time to explain the real reason when you refuse to buy them a toy they see at the store.
When you're packing up clothes or toys for donation, talk about how much those things cost you and whether, in retrospect, you think it was worth it and why.
Keep it light and age appropriate. It doesn't need to be a big teachable moment ala 1980's sitcoms complete with violin music playing in the background; in fact, I think it's better if it just feels like everyday chit-chat. The more you casually introduce them to mundane money matters now, the more ready they will be for the serious conversations about technical stuff you have to discuss later, like budgeting.
Give them small, increasing freedoms
Parents use this concept all the time in other areas of life. We let our kids make small, low-consequence decisions, like deciding which pajamas to wear, to prepare them for bigger decisions. We let them stay home alone for an hour here and there to prepare them for taking care of themselves for longer periods. These progressing levels of freedom slowly get kids ready for bigger steps while giving them an opportunity to make mistakes with relatively small consequences and a support system nearby.
Eventually, your children will be fully responsible for big decisions like whether to buy a house or how much to save for retirement. Before they get to that point, make sure they've had much smaller opportunities to make decisions… and fail. Here are some suggestions for age-appropriate money responsibility for kids:
Very young children (pre-school age): When they ask for a treat or toy at the store, ask them if they'd be willing to perform a specific chore in exchange for the item. Or set a dollar limit and let them choose anything that fits within the limit, resisting the urge to give your opinions.
Young school-aged children: Let them choose whether to spend or save small amounts of money they receive as gifts. If they want to buy something that costs a bit more than they have, give them the option of borrowing the difference from you, but make sure you collect next time they receive some money.
Pre-teens: Give them a small allowance and let them decide how to spend it (or save it). When they ask you to buy them things they don't truly need, remind them they're getting an allowance which they can use to purchase or save up for the item.
Teenagers: rather than giving them spending money, encourage them to work to make money outside the home and, unless you are reliant on their financial contribution, let them be solely responsible for how many hours they work and how much they spend vs. save.
In addition to letting your children learn lessons from these freedoms, they'll allow you ample opportunities for important money discussions big and small as long as you can resist the urge to bail them out of bad decisions.
Make it fun
Yes, at some point before they become financially independent you will need to sit down with your child and have serious discussions about "lame" concepts like income taxes, budgeting, and compound interest. But the great thing about starting early is that you don't have to lead with these crowd-killers. The same way you hide vegetables in tasty foods, you can hide money lessons in fun things.
Some examples:
When your kids beg you to play Monopoly, play hard-ball – to teach them money lessons of course, and not just to satisfy your competitive side. ;)
Agree (however grudgingly) to play "restaurant" or "grocery store" with your kids, but I make it fun (for you) by doing silly things like putting way more in your cart than you can afford or dropping your "food" on the floor and then asking if you still have to pay for it.
Take your kids garage sale shopping - they will delight at the opportunity to spend their own money on someone else's junk, while learning about shopping and maybe even negotiating. And you might find some good deals, too.
Raise your hand if you hate that your kids love making lemonade stands. Yeah, me too, but let them do it anyway and don't micro-manage it. You can always discourage the next one by charging them a portion of their earnings for the supplies they used.
As you can see from the above examples, the goal isn't just for your kids to have fun, but to find a way to make it fun for you, too. My favorite rule of parenting is that if you can find a way to make a parenting task more pleasant for yourself, you'll do it more consistently and effectively.
Erase The Taboo
The biggest thing you can do to help your kids learn important lessons about money is to be open and honest with them in an age-appropriate way. If you're secretive about your financial situation, you'll lose out on teaching opportunities while unintentionally teaching them that money and debt are impolite or embarrassing subjects. Talking about these things doesn't guarantee you'll prevent your kids from making financial mistakes – there's no doubt that people often need to learn hard lessons on their own. But if you talk openly with them, you increase the chance of saving them some grief, while letting them know that you're available to answer questions and to talk about money problems. And if 1980's sitcoms taught us anything, it's that that's what parents are for.
YOUR TRUSTED CHOICE FOR DEBT RELIEF
With our experience and our caring approach, we will help you find the best option for debt relief based on your unique situation - from advice on talking to your creditors to a consumer proposal or bankruptcy, and everything in between. We are here to lift the burden caused by overwhelming debt.
Contact us today at 1-403-899-3890‌ for a FREE, confidential, no-commitment meeting, and let us guide you to regaining your financial footing.
Or, join our Email List to receive notifications when we post new blogs or have news to share.