What Is The Difference Between A Bankruptcy Trustee And A Licensed Insolvency Trustee?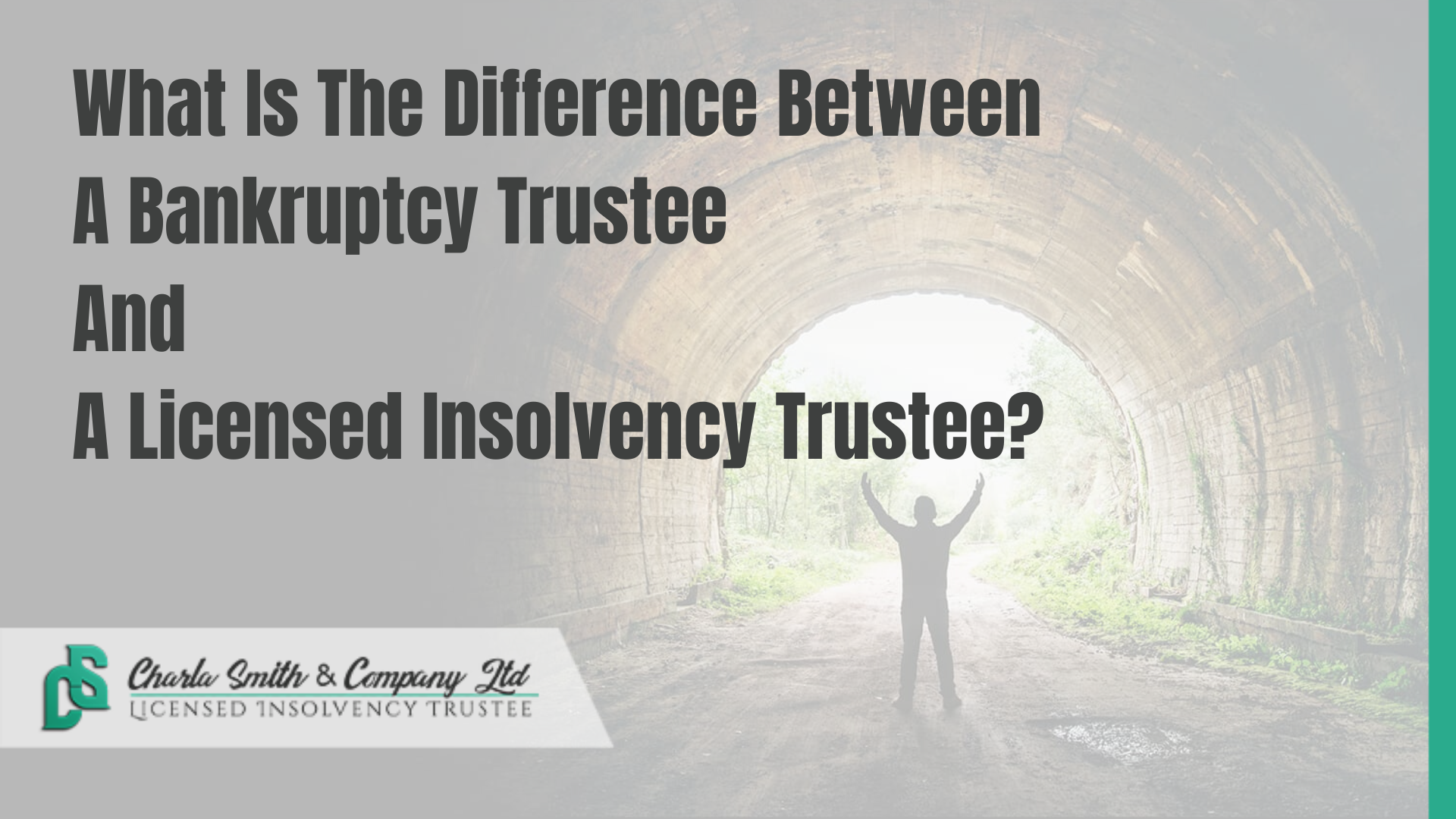 If you're Canadian and have been doing your research about debt relief options, such as bankruptcy or a Consumer Proposal, you may have heard the term "Bankruptcy Trustee" and the term "Licensed Insolvency Trustee" and wondered what the difference between these is and which of them you should seek out. You may have even noticed that they appear to be used interchangeably, and that's because… they are the same thing. At least, in Canada.
The proper terminology for a professional designated to provide bankruptcy and Consumer Proposal services in Canada is Licensed Insolvency Trustee. Only a Licensed Insolvency Trustee is legally allowed to provide these options, so if you are considering either of these options you must speak to a Licensed Insolvency Trustee.
However, the term Licensed Insolvency Trustee only came into use in 2016. Prior to then, such professionals were referred to as a "Trustee in Bankruptcy" or a "Bankruptcy Trustee". The two biggest reasons why the terminology was changed are:
Using the word "Licensed" in the term makes it clear that the individual or firm you are dealing with requires a license to offer the services (which they obtain only by going through a rigorous training and examination process and which requires adherence to important rules and codes of conduct to maintain), and they should be able to provide you with proof of that license if requested. Prior to this, there was concern that unlicensed (and therefore unqualified) parties were taking advantage of consumers' lack of understanding of this requirement.
Use of the word "Bankruptcy" in the term was somewhat misleading, as designated insolvency professionals are licensed to provide bankruptcy as well as several other types of insolvency services. For example, they are also the only parties licensed to provide Consumer Proposals, which are a less severe and less stigmatized way to manage overwhelming debt. People looking to avoid the last resort of bankruptcy were often not aware that a "Bankruptcy Trustee" could provide other options.
So now that you know that a "Bankruptcy Trustee" is a Licensed Insolvency Trustee (LIT), let me tell you a little more about LITs:
Who can be a Licensed Insolvency Trustee?
The Canadian government extends an LIT license to individuals who have proven to be:
Of good character and reputation
Financially solvent
Proven to know the rules and regulations contained in the Bankruptcy and Insolvency Act and capable of applying that knowledge to various situations (as determined by examinations).
Most LITs are also Chartered Insolvency and Restructuring Professionals (CIRPs), which means we are members of an association of LIT professionals. LITs are often also CPAs.
LITs are not employed by the government. They are independent professionals who are continually monitored by the government, the courts, and their relevant professional associations.
What do LITs do?
An LIT is an unbiased independent party that facilitates an insolvency process. The tasks they perform can be broken down into three main areas:
Providing assistance to individuals, companies, creditors, and other interested parties.
Ensuring the integrity of the insolvency process, sort of like a referee.
Technical facilitation of the insolvency process such as preparing and filing documents, managing communication between parties, and acting as trustee for any funds brought into the process.
Who should contact an LIT?
Anyone looking for information or advice on how to deal with debt that feels overwhelming can contact an LIT. Most LITs offer free consultations, and they are required to give you an unbiased review of options.
If you'd like a more detailed explanation about Licensed Insolvency Trustees, see our blog post What is a Licensed Insolvency Trustee? If you would like to speak with an LIT, Charla Smith & Company is a Calgary-based Licensed Insolvency Trustee serving the southern Alberta region. We regularly help individuals, including business owners, review their options for dealing with their debt. For a free, confidential consultation, contact us.
Disclaimer: This publication provides general information and should be seen as broad guidance only. The information contained herein cannot be relied upon to cover specific situations and you should not act, or refrain from acting, upon this information without obtaining specific professional advice relating to your particular circumstances. Charla Smith & Company Ltd. does not accept or assume any liability or duty of care for any loss arising from any action taken or not taken by anyone in reliance on the information in this publication or for any decision based on it.
YOUR TRUSTED CHOICE FOR DEBT RELIEF
With our experience and our caring approach, we will help you find the best option for debt relief based on your unique situation - from advice on talking to your creditors to a consumer proposal or bankruptcy, and everything in between. We are here to lift the burden caused by overwhelming debt.
Contact us today at 1-403-899-3890‌ for a FREE, confidential, no-commitment meeting, and let us guide you to regaining your financial footing.
Or, join our Email List to receive notifications when we post new blogs or have news to share.