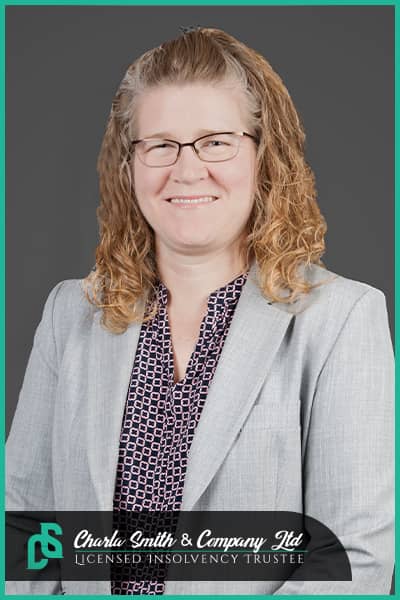 JULIE FREDIN
BComm, CPA,CGA
Julie has a wide array of experience helping people. She has 20 years experience working in insolvency in addition to providing accounting and tax services to a range of clients.
Julie is originally from Ontario but has lived most of her life in Calgary. She graduated from the University of Calgary and then went on to pursue her accounting designation while working in a Licensed Insolvency Trustee firm. In her spare time she enjoys spending time with her family in the great outdoors.
Julie's clients appreciate her wealth of knowledge, diligence, and her calm approach, and she enjoys helping them grow and succeed. Charla Smith & Company is proud to have Julie on our team!
Our Team
Charla Smith & Company's experienced professionals are here to help by providing comprehensive solutions and advice. We listen without judgement and support and empower you to take control of your finances. We approach each conversation with kindness and an open mind to ensure we point you to the solution that's right for you.
YOUR TRUSTED CHOICE FOR DEBT RELIEF
With our experience and our caring approach, we will help you find the best option for debt relief based on your unique situation - from advice on talking to your creditors to a consumer proposal or bankruptcy, and everything in between. We are here to lift the burden caused by overwhelming debt.
Contact us today at 1-403-899-3890‌ for a FREE, confidential, no-commitment meeting, and let us guide you to regaining your financial footing.
Or, join our Email List to receive notifications when we post new blogs or have news to share.